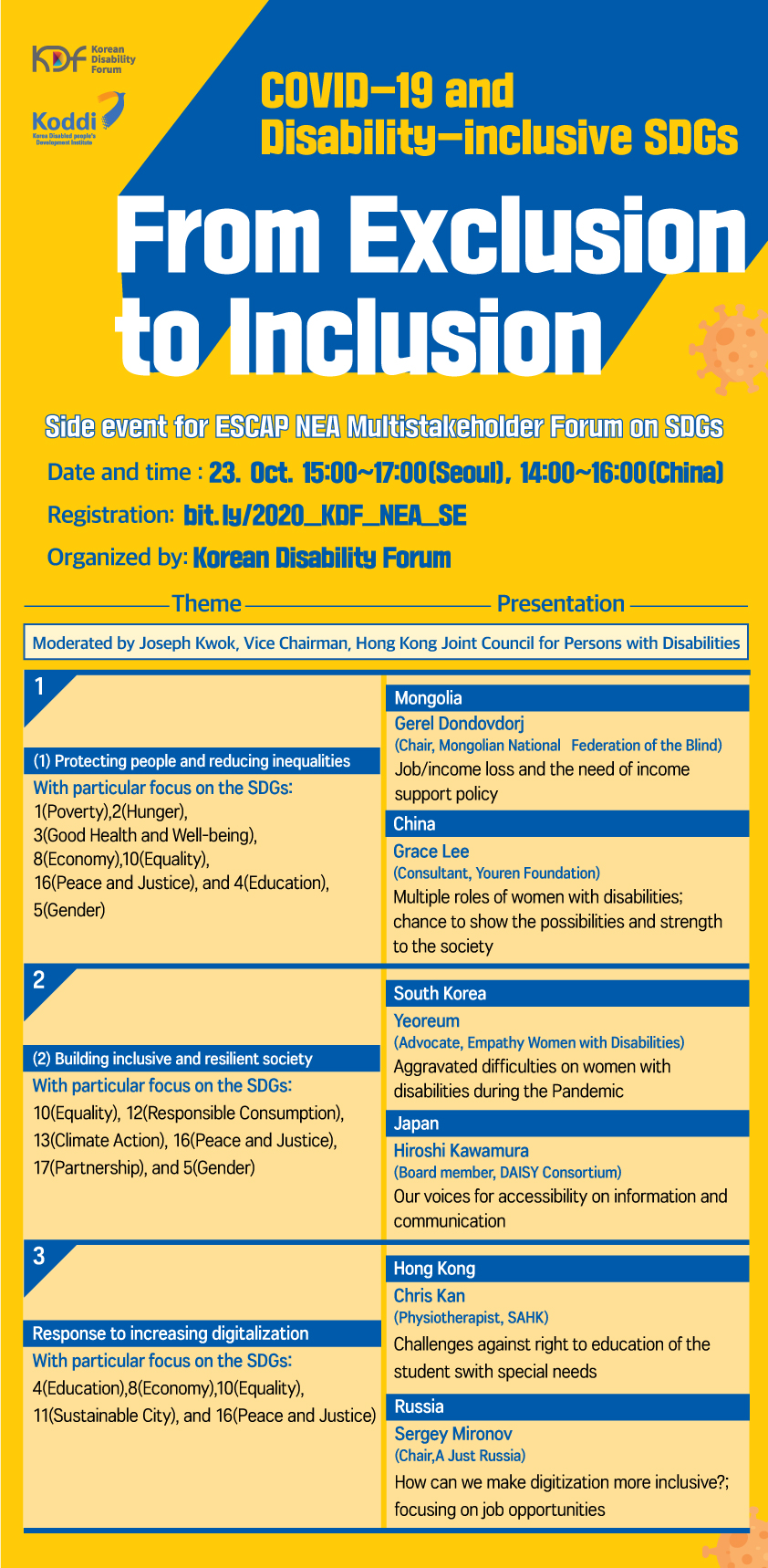 "Leaving No One Behind during the Pandemic"
-Side Event for ESCAP NEA multistakeholer Forum on SDGs
Korean Disability Forum invites you to the event-join and find out the experiences and recommendations of the persons with disabilities in North-East Asia region for 'leaving no one behind' during the Pandemic. 
-Date and time: 23rd October(Fri.) 15:00-17:00(KST)
-register for webinar: bit.ly/2020_KDF_NEA_SE
-Program
Program

Subject-focusing goal of SDGs

Specified Themes

Speakers

Time

Welcome & greetings

Secretariat

Jongsul Yoon, President, KDF

15:00-15:05

Introduction and Acknowledgement

Joseph Kwok(Moderator)

Vice Chairman, Hong Kong Joint Council for Persons with Disabilities

15:05-15:10

(1) Protecting people and reducing inequalities-Economy
With particular focus on the SDGs 1(Poverty), 2(Hunger), 3(Good Health and Well-being), 8(Economy), 10(Equality), 16(Peace and Justice), (and optionally 4(Education), and 5(Gender))

Mongolia Gerel Dondovdorj

(Chair, Mongolian National Federation of the Blind)

- Job/income loss of PWDs and the need of income support policy

15:10-15:20

China Grace Lee

(Consultant, Youren Foundation)
-Multiple roles of women with disabilities; chance to show the possibilities and strength to the society

15:20-15:30

Discussion

 

15:30-15:40

(2) Building inclusive and resilient society-Equality
With particular focus on the SDGs 10(Equality), 12(Responsible Consumption), 13(Climate Action), 16(Peace and Justice), 17(Partnership) + (and optionally 5(Gender))

S.Korea Yeoreum

(Advocate, Empathy Women with Disabilities)
-Aggravated difficulties on women with disabilities during the Pandemic

15:40-15:50

Japan Hiroshi Kawamura

(Board Member, Daisy Consortium)
-Our voices for accessibility on information and communication

15:50-16:00

Discussion

 

16:00-16:10

(3) Response to increasing digitalization
With particular focus on the SDGs 4(Education), 8(Economy), 10(Equality), 11(Sustainable City)

Hong Kong Chris Kan

(Physiotherapist, SAHK)
-Challenges against right to education of the students with special needs

16:10-16:20

Russia 

Sergey Mironov 
(Chair, A Just Russia)

Artyom Moiseyenko

(Chair, Kovcheg)
-How can we make digitalization more inclusive?; focusing on job opportunities

Videos & simultaneous interpretation

16:20-16:30

Discussion

 

16:30-16:40

Q&A

Participants

16:40-16:50

 Concluding Statement

Secretariat

16:50-17:00
If you have any question, please contact Ms. Hanbyo CHOI, the coordinator of KDF(kdf@thekdf.org/+82-2-6954-7419).